No result found for your search.
No result found for your search.
Need help? Contact us
0933 813 0013 | 032 345 6611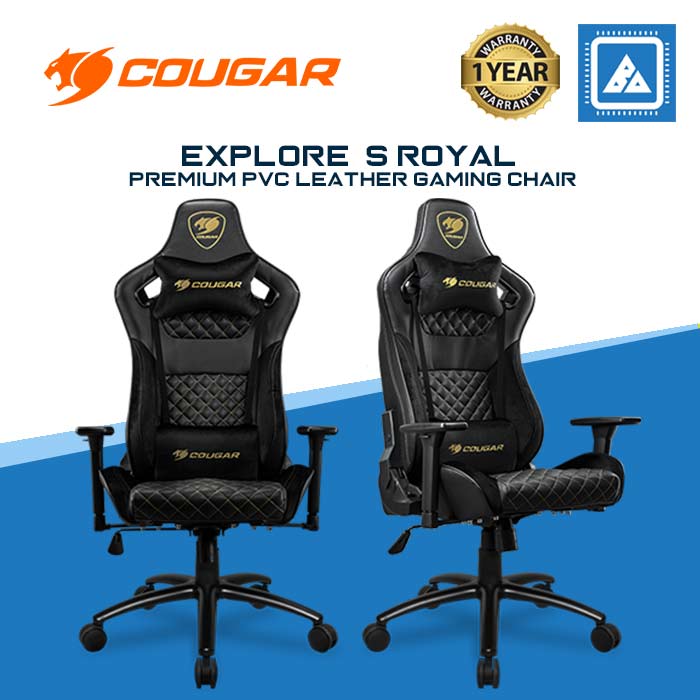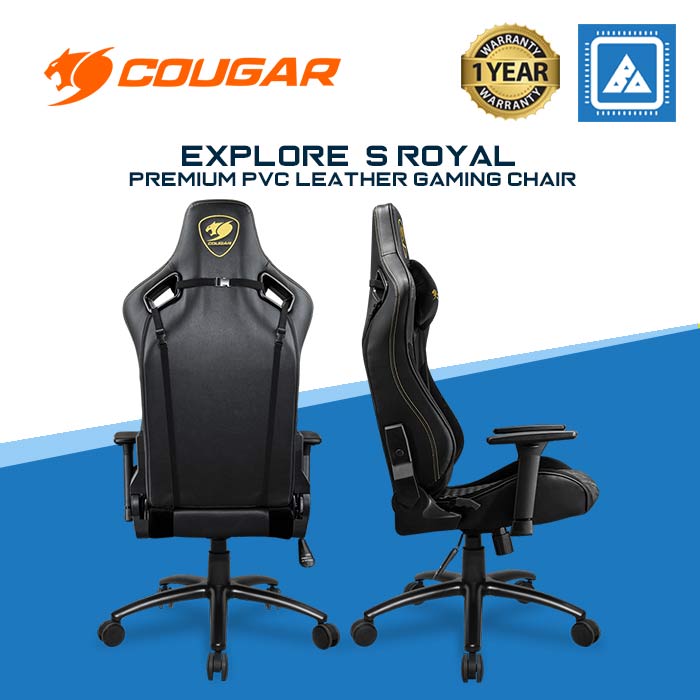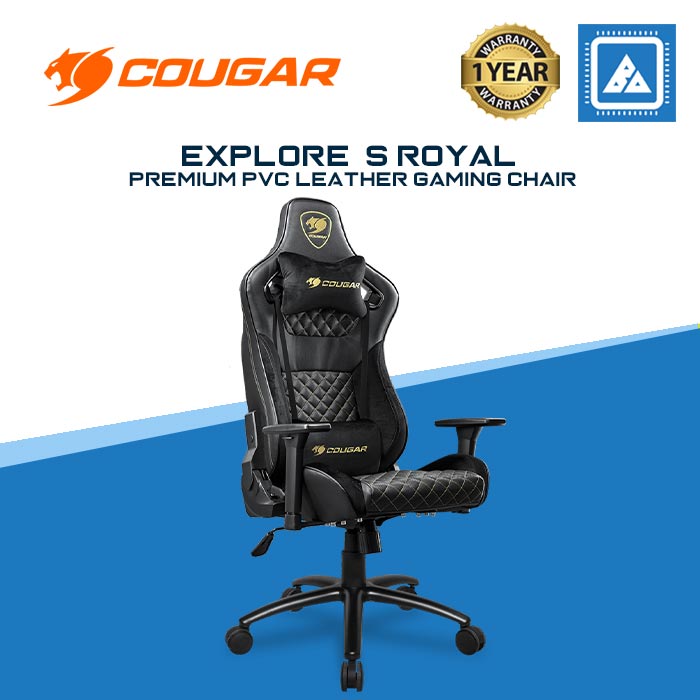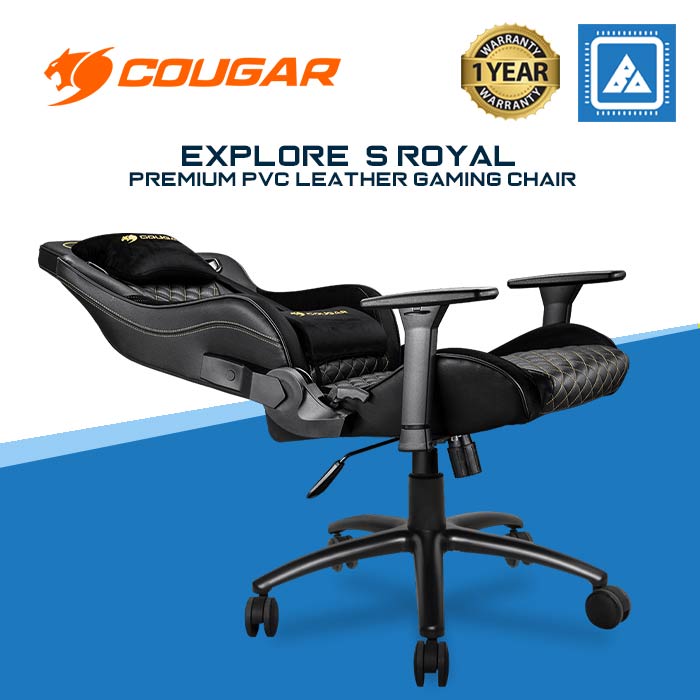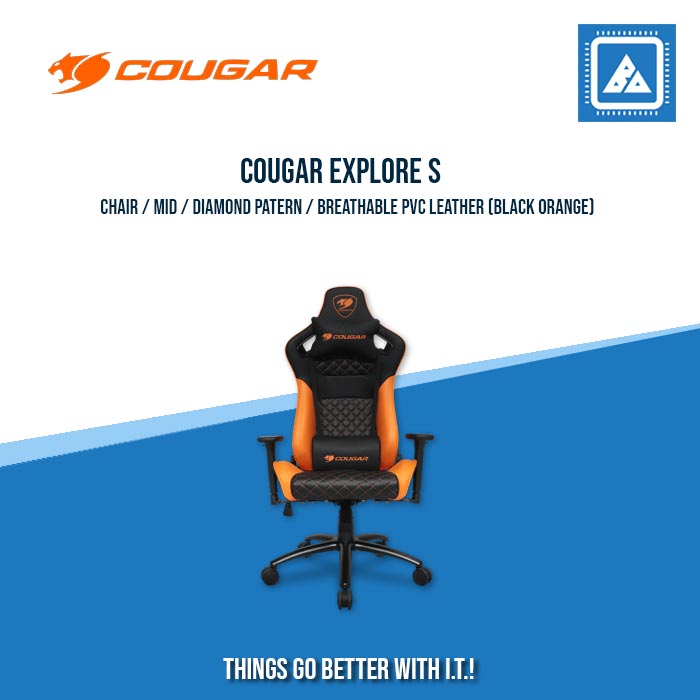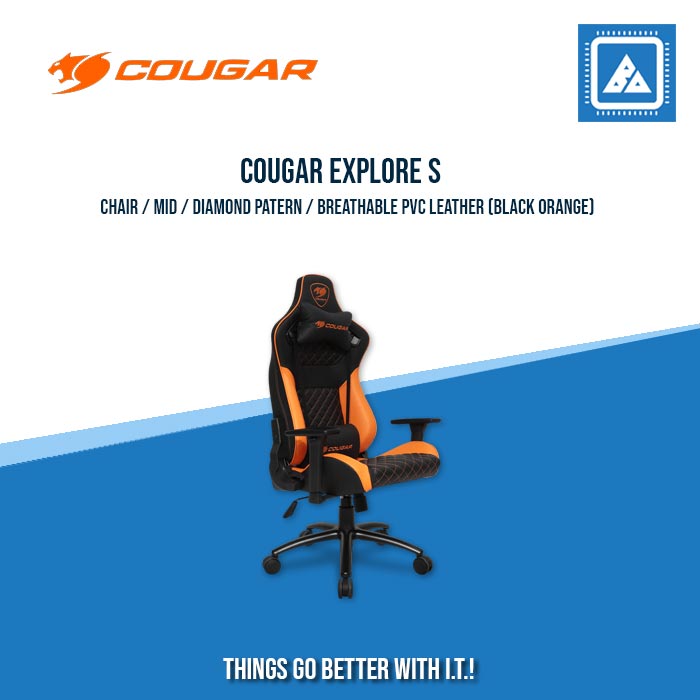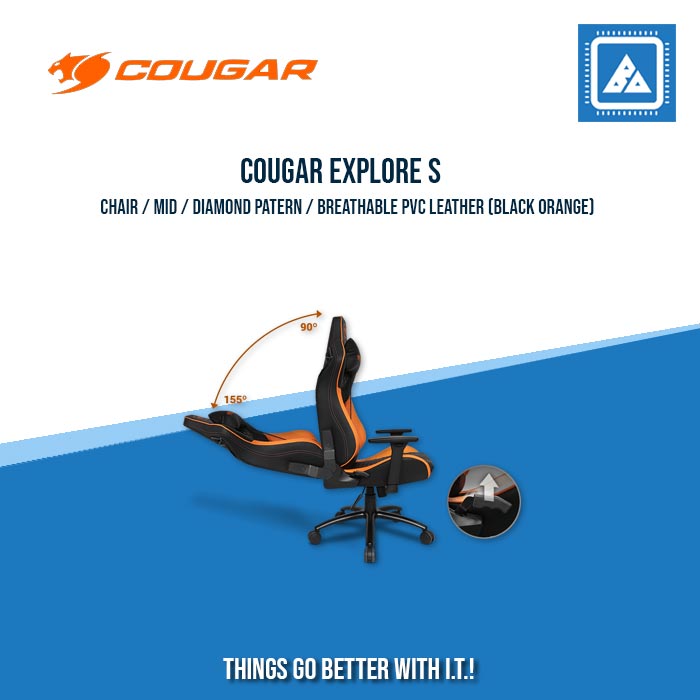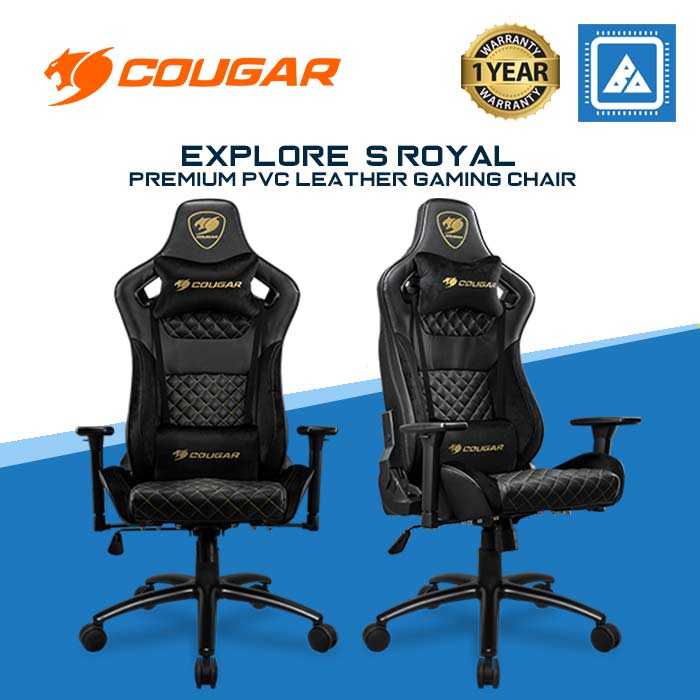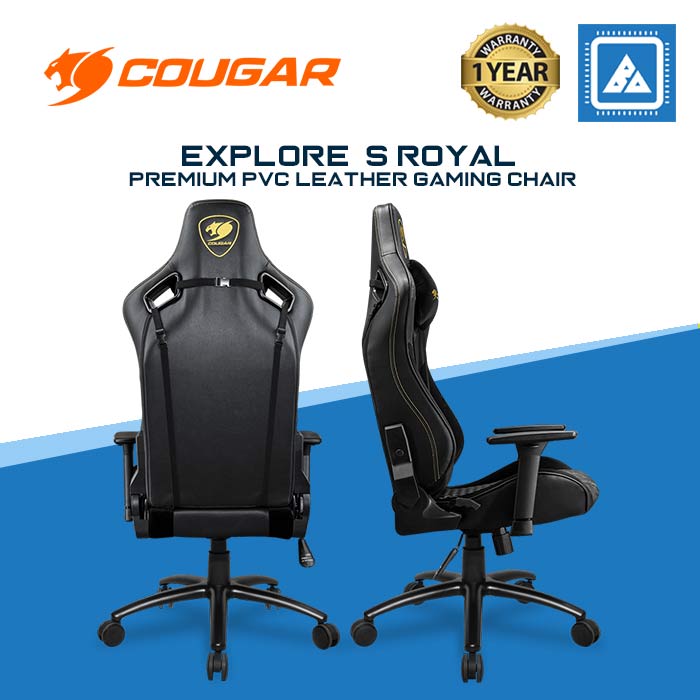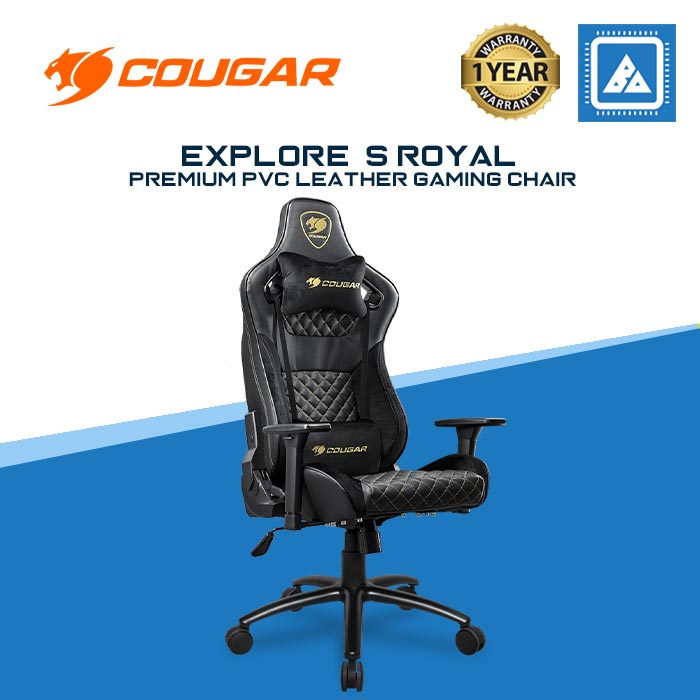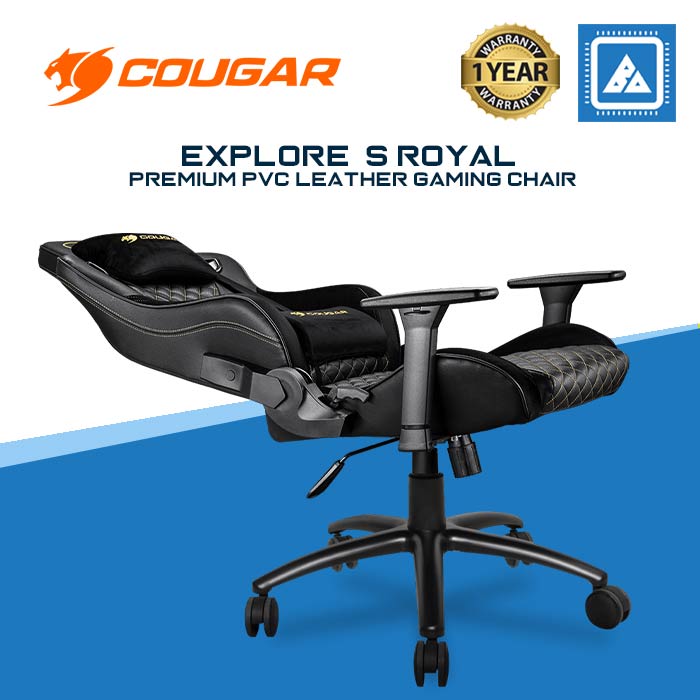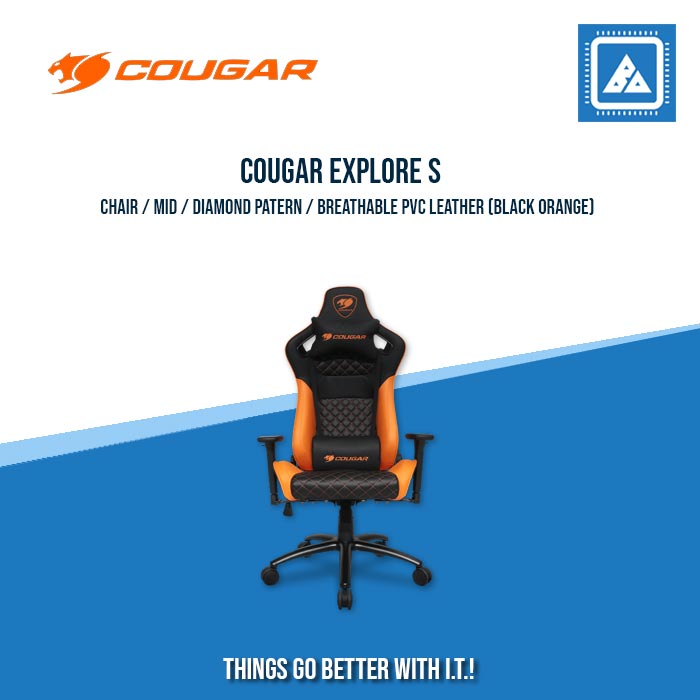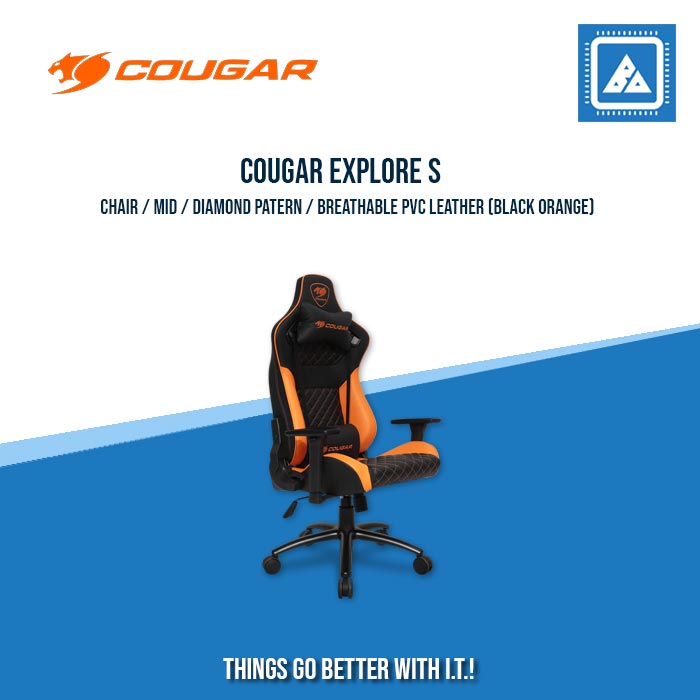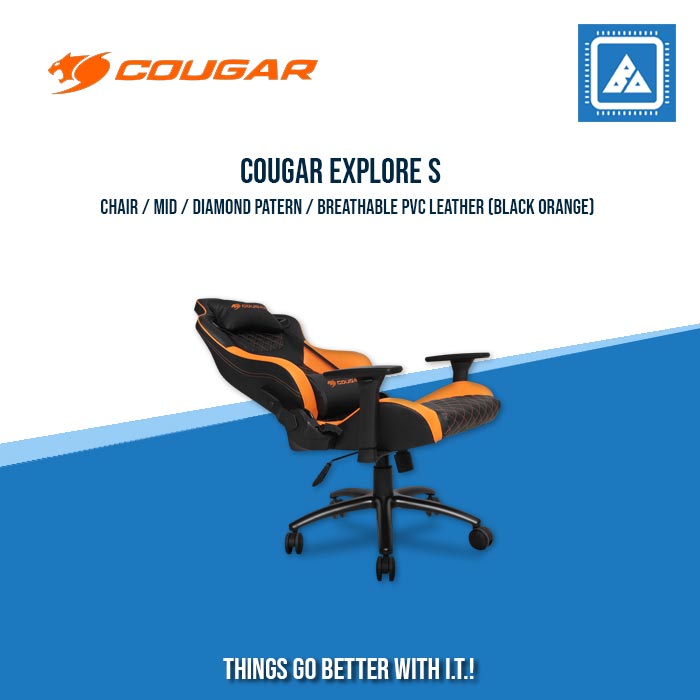 COUGAR EXPLORE S ROYAL GAMING CHAIR / MID / DIAMOND PATERN / BREATHABLE PVC LEATHER / HIGH DENSITY FOAM / STEEL BASE / TILT / 3D ARM REST / 3" WHEELS / 120KG / BLACK GOLD
Available:
Only 3 items in stock
3 items in stock
In stock
Out of stock
Back in stock
Description
Piston Lift Height Adjustment
Continuous 155º Reclining​
Adjustable Tilting Resistance
Height Adjustment
Left/Right Adjustment
Backwards/Forwards Adjustment
Reviews
COUGAR Explore S Royal gaming chair perfectly meets the needs of professional gamers with a combination of comfort and durability. The high density mold shaping foam, steel frame, metal base, reclining backrest, perforated premium PVC leather, delicate embroidery as well as ergonomic-designed armrest easily have you find your most comfortable position. Come and explore the game and greet every battle to win!
COUGAR Explore S Royal brings you the extremely comfort you need to thoroughly enjoy long gaming sessions. Fully adjustable and made of first quality materials with high density mold dhaping foam, this gaming chair also features the unique COUGAR design that has become a sign of the passion for gaming.
Perforated Premium PVC Leather
Explorer S Royal's perforated leather brings you only the best. It has moisture absorption and sweat discharged features which will keep you fresh and comfortable. You will feel more pleasant and more breathable than ever!
To provide additional support and comfort, Explore S Royal includes two comfortable pillows for your head and lumbar region. Focus on the game!
High Density Mold Shaping Foam
Explore S Royal's ergonomic high density molding foam to give you both immaculate comfort and great support with better stylish shape.
Explore S Royal will adapt itself to your needs in every moment through several adjustment options:
Easily adjust Explore S Royal's height with the high-quality piston lift.
With Explore S Royal you are not restricted to fixed steps when reclining your chair. Instead of being limited to a few options, you can find the exact point that maximizes your comfort and stay there.
Explore S Royal's tilting function allows you, by turning a knob located under the chair, to adjust its behaviour, controlling the level of resistance when you tilt it.
Moving the armrest up or down will help you to find the most suitable position to enjoy games.
Suitable for all body sizes and positions.
comfortable resting of elbow, forearm and arm.
Explore S Royal is as solid as its name indicates, and it has been created with the best components to guarantee not only that it will last for long but also that you will be able to make use of all its amazing features safely.
Explore S Royal's bones are made up of steel, not only guaranteeing long-term durability but also providing strong support for your body.
Explore S Royal bears the mark of true gamers: While others print logos on the chair, COUGAR has embroidered what has become a symbol of passion for gaming so that it won't wear out for many years.
Extra large 3" caster wheels for enhanced stability.
 

Models
ARMOR TITAN PRO
ARMOR S
EXPLORE S ROYAL
EXPLORE
ARMOR ONE
Size
Large
Mid
Mid
Mid
Small
Diamond Check Pattern Design
Yes
Yes
Yes
Yes
Yes
Surface
Breathable PVC Leather
Micro Suede-Like Texture
Breathable PVC Leather
Perforated Premium PVC Leather(Orange)
with Carbon Fiber Texture(Black)
Breathable PVC Leather
Breathable PVC Leather
High Density Mold Shaping Foam
Yes
Yes
Yes
No
No
5-Star Base Material
Aluminum
Steel
Steel
Steel
Steel
Advanced Tilt Mechanism
Yes (Advanced Function)
Yes
Yes
Yes
Yes
Arm Rest Directions
4D
4D
3D
Up/Down Movement
2D
Wheel Size
3"
2.4"
3"
2.4"
1.9"
Weight Limit
160 kg
120 kg
120 kg
120 kg
120 kg
| | |
| --- | --- |
| product Name | COUGAR EXPLORE S ROYAL Gaming Chair |
| Weight Support | 120kg (264.55 lb) |
| product Weight | 22.5kg (49.6 lb) |
| | |
| --- | --- |
| | EXPLORE S ROYAL |
| Product Number (P/N) | 3MESRNXB.0001 |
| EAN CODE | 4710483772047 |
| UPC CODE | 192554003115 |
| JAN CODE | 4541995035708 |
| Individual Size W/O Packaging Weight (N.Weight) | 22.5 (kg) |
| Individual Packaging Weight (G.Weight) | 26.3 (kg) |
| Individual Size W/O Packaging (WxHxD) | 730 x 630 x 1330 (mm) |
| Individual Packaging Size (WxHxD) | 860 x 690 x 370 (mm) |