No result found for your search.
No result found for your search.
Need help? Contact us
0933 813 0013 | 032 345 6611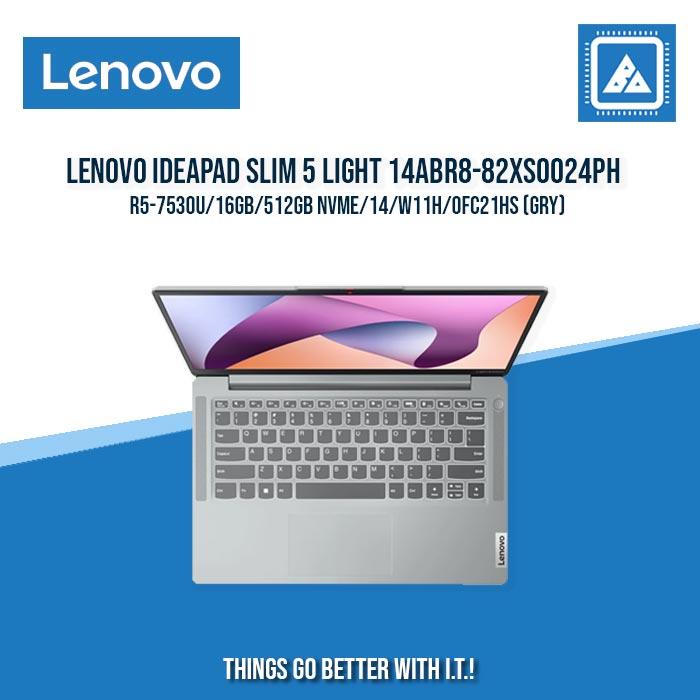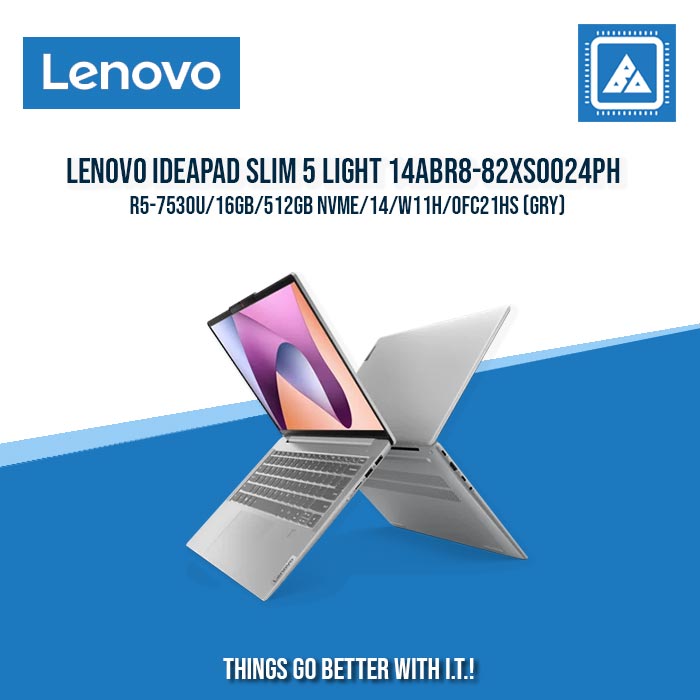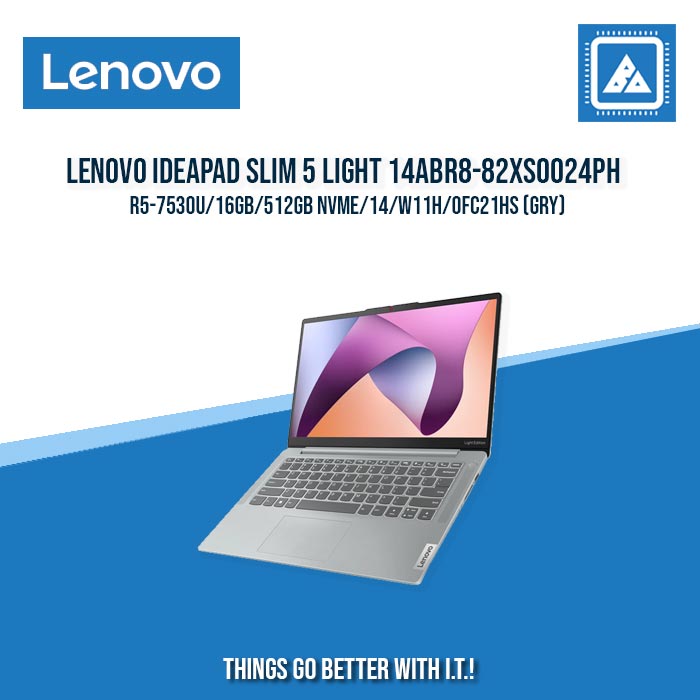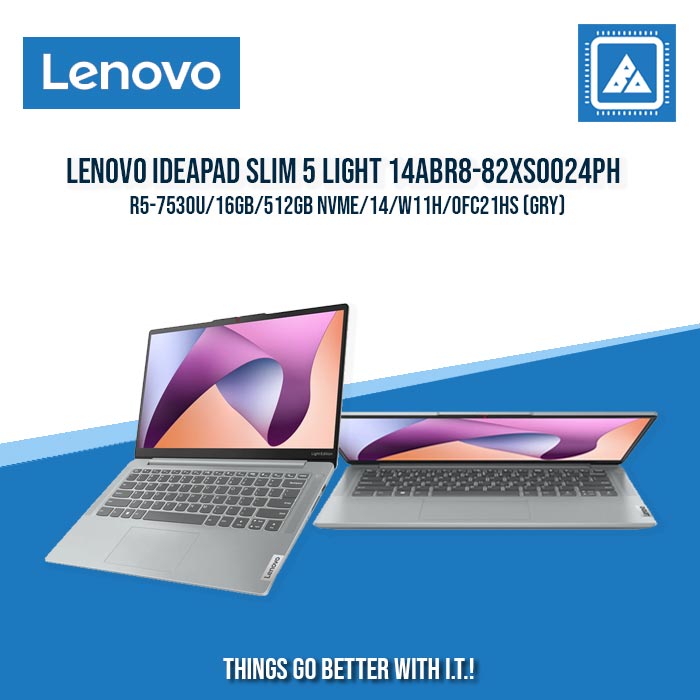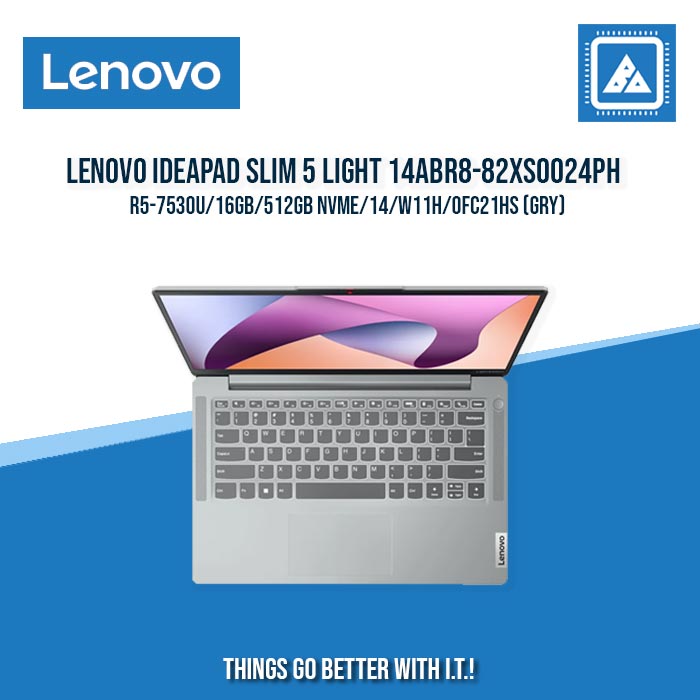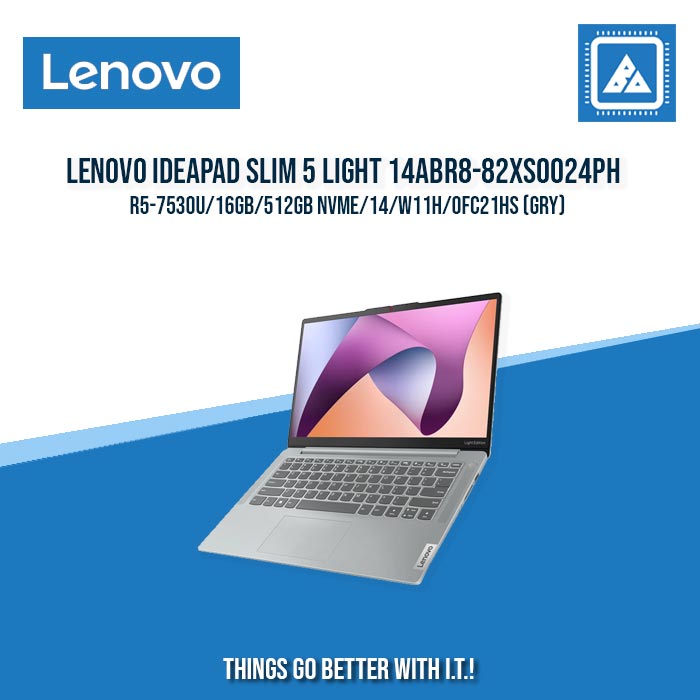 Introducing the Lenovo IdeaPad Slim 5 Light 14ABR8-82XS0024PH laptop, a versatile and lightweight computing solution designed to deliver impressive performance and portability. With its sleek design, powerful components, and enhanced features, this laptop is an excellent choice for both work and leisure, offering a blend of functionality and style.
Product Title: Lenovo IdeaPad Slim 5 Light 14ABR8-82XS0024PH Laptop (Gray)
Key Features:
1. Efficient Processor: Powered by the AMD Ryzen 5 7530U processor, this laptop offers reliable and efficient performance for a variety of tasks. The processor's dual-core design ensures responsive multitasking and smooth application handling.
2. Generous Memory: The laptop features 16GB of RAM, providing ample memory to handle multitasking and memory-intensive applications with ease. Run multiple programs simultaneously without experiencing slowdowns.
3. Fast Storage: Equipped with a 512GB NVMe SSD, the laptop offers speedy data access and quick boot times. Your applications and files load swiftly, contributing to an overall responsive computing experience.
4. Sleek and Lightweight Design: The Lenovo IdeaPad Slim 5 Light boasts a sleek and lightweight design, making it easy to carry and suitable for on-the-go usage. The laptop's modern aesthetics add a touch of elegance to your computing experience.
5. Windows 11 Home: Pre-installed with Windows 11 Home, the laptop offers a contemporary operating system environment. Enjoy improved multitasking features, a redesigned Start menu, and enhanced security features.
6. Microsoft Office 2021 Home and Student: The laptop comes with Microsoft Office 2021 Home and Student pre-installed, providing you with essential tools for creating documents, presentations, and spreadsheets.
7. Immersive Display: The laptop features a 14-inch display that delivers vibrant visuals and crisp details. Whether you're working on documents, streaming content, or browsing the web, the display enhances your visual experience.
8. Enhanced Audio Experience: Enjoy an enhanced audio experience with the laptop's built-in speakers. Whether you're watching movies or listening to music, the sound quality is designed to enrich your multimedia experience.
9. Comprehensive Connectivity: The laptop offers a range of connectivity options, including USB ports, HDMI, and more, allowing you to connect peripherals, external displays, and other devices effortlessly.
10. Extended Battery Life: The laptop's battery life is designed to keep you productive and entertained throughout your day without frequent recharging.
The Lenovo IdeaPad Slim 5 Light 14ABR8-82XS0024PH laptop in Gray is a versatile and stylish option that combines performance, portability, and aesthetics. Whether you're a student, professional, or casual user, this laptop is designed to meet your computing needs while offering a touch of modernity to your digital lifestyle.
| Component | Specification |
| --- | --- |
| Product Model | Lenovo IdeaPad Slim 5 Light 14ABR8-82XS0024PH |
| Color | Gray |
| Operating System | Windows 11 Home (pre-installed) |
| Processor | AMD Ryzen 5 7530U |
| Processor Cores | Dual-core |
| Base Clock Speed | 2.6 GHz |
| Max Turbo Speed | Up to 3.5 GHz |
| Cache | 4 MB |
| RAM | 16 GB DDR4 (onboard) |
| Storage Type | NVMe SSD |
| Storage Capacity | 512 GB |
| Display Size | 14 inches |
| Display Type | LCD |
| Resolution | Not specified |
| Wireless Connectivity | Wi-Fi 6 (802.11ax), Bluetooth 5.1 |
| USB Ports | 1 x USB-C, 2 x USB-A |
| HDMI Port | 1 x HDMI |
| Audio | Built-in speakers, audio jack |
| Webcam | Integrated webcam |
| Keyboard | Full-size keyboard |
| Touchpad | Multi-touch gesture support |
| Battery | Not specified |
| Dimensions (W x D x H) | Not specified |
| Weight | Not specified |
| Software | Windows 11 Home, Microsoft Office 2021 (pre-installed) |