No result found for your search.
No result found for your search.
Need help? Contact us
0933 813 0013 | 032 345 6611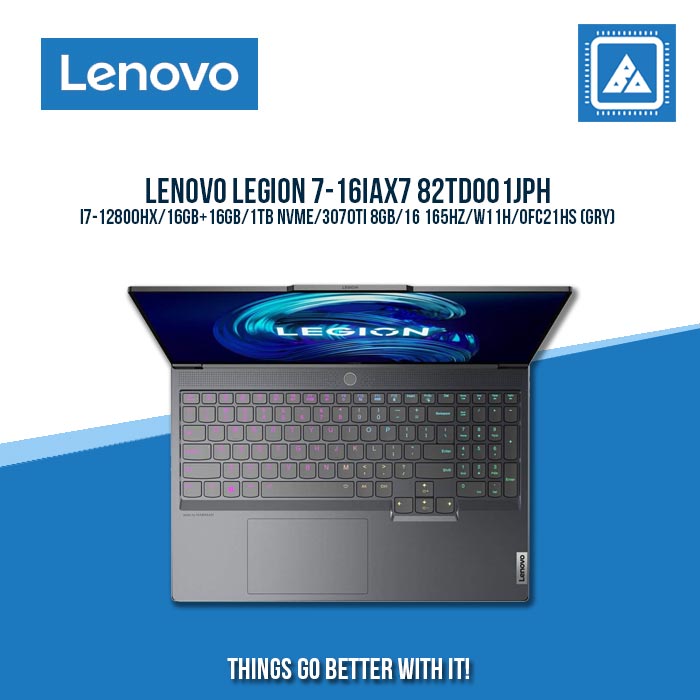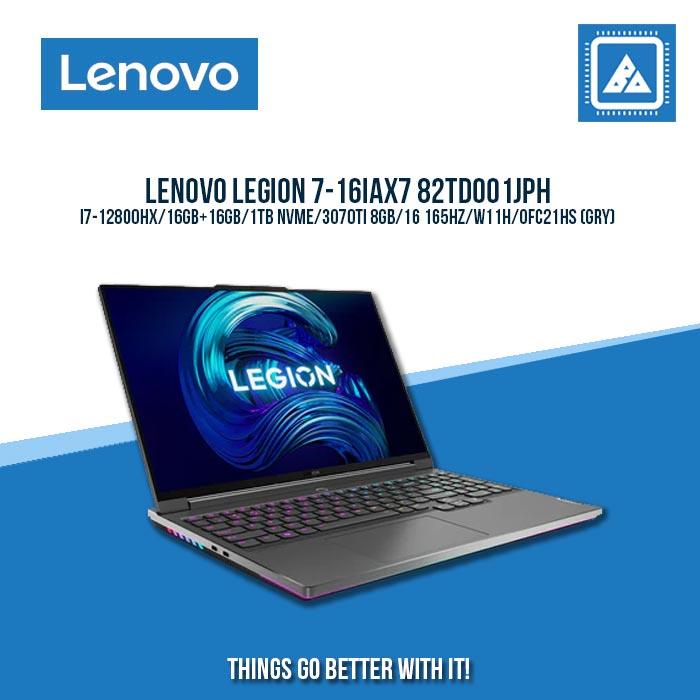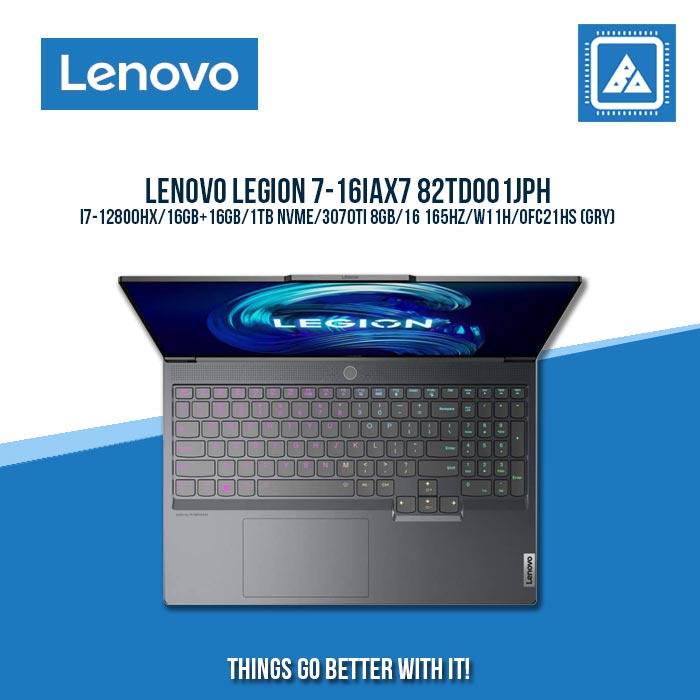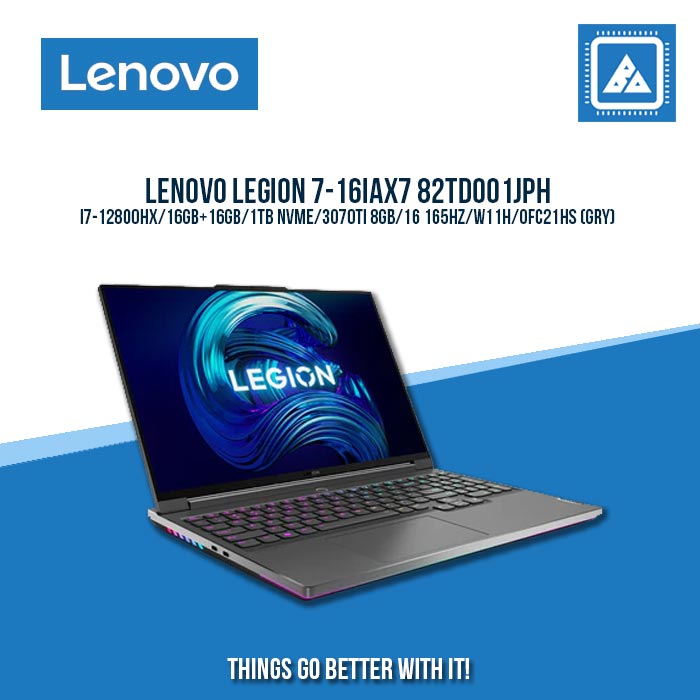 Introducing the Lenovo Legion 7-16IAX7 82TD001JPH Gaming Laptop - the ultimate powerhouse built to deliver an unrivaled gaming experience. Packed with cutting-edge technology and high-performance components, this gaming laptop is designed to take your gaming adventures to the next level. Here's a detailed product description:
Performance and Processing Power:
Powered by an Intel Core i7-12800HX processor, this laptop delivers top-of-the-line processing power, ensuring seamless multitasking and fast performance for even the most demanding games and applications.
Memory and Storage:
Equipped with 16GB of DDR4 RAM (dual-channel configuration) and an additional 16GB Optane Memory, this laptop offers lightning-fast data access and smooth multitasking capabilities.
The 1TB NVMe solid-state drive (SSD) provides ample storage space for your games, media, and files while significantly reducing load times.
Graphics and Display:
The NVIDIA GeForce RTX 3070Ti graphics card with 8GB of dedicated VRAM ensures stunning visuals and incredible realism in games, allowing you to play the latest AAA titles at high settings without compromise.
The 16-inch IPS display features a blazing-fast 165Hz refresh rate, delivering buttery-smooth visuals and minimizing motion blur for a more immersive gaming experience.
The display also supports a high resolution, allowing you to enjoy your games in sharp detail and vibrant colors. 
Operating System and Software:
Comes pre-installed with Windows 11 Home, the latest version of Microsoft's operating system that brings a modern and intuitive interface along with enhanced gaming features.
The laptop also includes Office Home & Student 2021, making it ready for productivity tasks and schoolwork.
Design and Build:
The Lenovo Legion 7 features a sleek and premium design with a subtle gray finish, exuding a professional and stylish look.
The laptop is built with high-quality materials, ensuring durability and sturdiness to withstand the rigors of gaming on the go.
Cooling and Thermal Management:
Equipped with an advanced cooling system, the Legion 7 efficiently dissipates heat during intense gaming sessions, preventing thermal throttling and maintaining optimal performance.
Connectivity and Ports:
Offers a wide range of connectivity options, including multiple USB ports, an HDMI port, and an Ethernet port, allowing you to connect to various peripherals and external displays.
In summary, the Lenovo Legion 7-16IAX7 82TD001JPH is a high-end gaming laptop that provides a powerful and immersive gaming experience. With its top-tier components, stunning display, and robust design, it is an excellent choice for gamers and power users seeking top-notch performance and cutting-edge features. Whether you're into competitive eSports or immersive open-world adventures, this laptop is designed to elevate your gaming experience to new heights.
| Component | Specification |
| --- | --- |
| Processor | Intel Core i7-12800HX (16 cores, 24 threads) |
| Base Clock Speed | 3.40 GHz |
| Max Turbo Boost Speed | Up to 4.90 GHz |
| Smart Cache | 24 MB |
| Memory | 16GB DDR4 3200MHz (on-board) |
| | 16GB Intel Optane Memory |
| Storage | 1TB NVMe M.2 Solid State Drive (SSD) |
| Graphics | NVIDIA GeForce RTX 3070Ti (8GB GDDR6 VRAM) |
| Display | 16-inch IPS display |
| | 165Hz refresh rate |
| | Full HD (1920 x 1080) resolution |
| Operating System | Windows 11 Home |
| Office Software | Office Home & Student 2021 |
| Color | Gray (GRY) |
| Cooling Technology | Lenovo Legion Coldfront 3.0 |
| Connectivity | Wi-Fi 6 (802.11ax) |
| | Bluetooth 5.2 |
| Ports | Multiple USB ports |
| | HDMI port |