No result found for your search.
No result found for your search.
Need help? Contact us
0933 813 0013 | 032 345 6611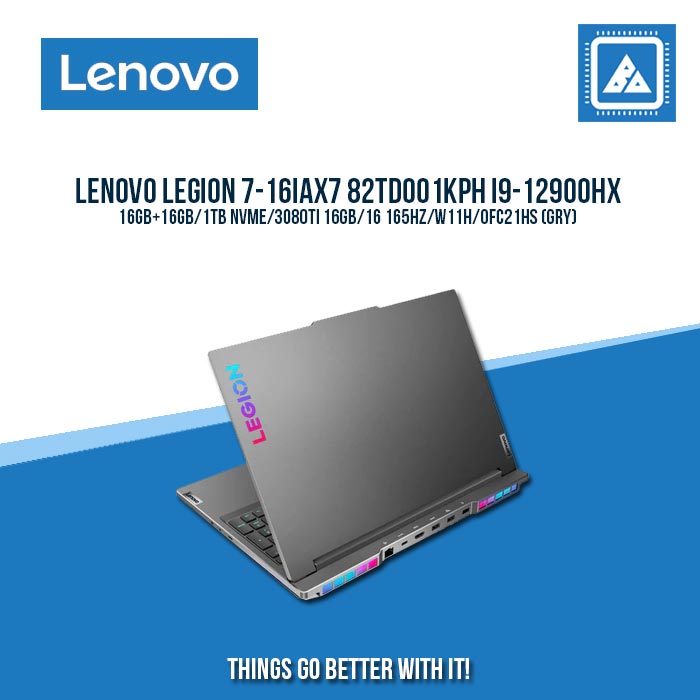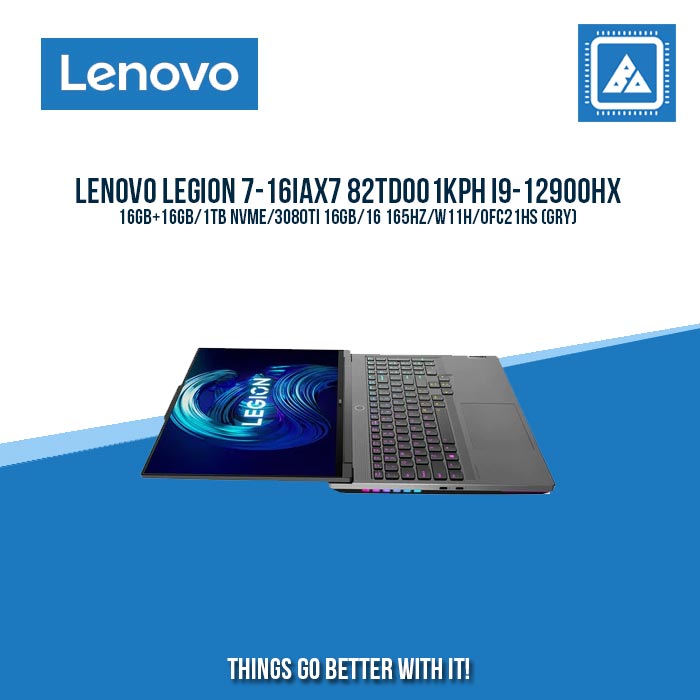 Lenovo Legion 7-16IAX7 82TD001KPH Gaming Laptop
The Lenovo Legion 7-16IAX7 82TD001KPH is a powerful gaming laptop designed to deliver exceptional performance for gamers and content creators alike. Its sleek and stylish design, featuring a grey (GRY) color scheme, gives it a modern and sophisticated appearance.
Processor and Performance
At the heart of the laptop is the latest and powerful Intel Core i9-12900HX processor, part of the 12th Generation Intel Core series. With its high core count and advanced performance capabilities, it can handle demanding tasks, including gaming, content creation, and multitasking with ease.
Memory and Storage
The laptop is equipped with a generous 16GB of high-speed DDR4 RAM for smooth multitasking and optimal performance. Additionally, it offers 16GB of Intel Optane Memory, which can accelerate system responsiveness and speed up frequently accessed applications and files.
For storage, the Lenovo Legion 7-16IAX7 82TD001KPH boasts a large 1TB NVMe SSD (Non-Volatile Memory Express Solid State Drive). This SSD delivers lightning-fast data access times, allowing for quick game load times and smooth overall system performance.
Graphics and Display
Gaming performance is further enhanced by the powerful NVIDIA GeForce RTX 3080 Ti graphics card with 16GB of dedicated VRAM. The RTX 3080 Ti is capable of handling the most demanding games at high frame rates and supporting real-time ray tracing for stunning visuals.
The laptop features a 16-inch display with a high refresh rate of 165Hz, ensuring smooth and fluid visuals during gameplay. The screen resolution and panel technology may vary depending on the specific model.
Operating System and Software
The Lenovo Legion 7-16IAX7 82TD001KPH comes pre-installed with Windows 11 Home Edition, providing a familiar and user-friendly interface for gaming and productivity.
The laptop may also come bundled with Microsoft Office 2021 Home and Student edition, providing access to essential productivity tools like Word, Excel, PowerPoint, and OneNote.
Cooling and Keyboard
Gaming laptops often include advanced cooling solutions to handle the intense heat generated during gaming sessions. The Legion 7-16IAX7 is likely to have a robust cooling system to ensure optimal performance and longevity during extended gaming sessions.
The laptop may feature a customizable RGB backlit keyboard, allowing you to personalize your gaming setup and enhance your gaming experience.
Connectivity and Ports
The Lenovo Legion 7-16IAX7 82TD001KPH offers a range of connectivity options, including Wi-Fi, Bluetooth, and Gigabit Ethernet, enabling seamless online gaming and network connectivity.
As for ports, it may come equipped with various USB ports (Type-A and Type-C), an HDMI port, audio jacks, and more, to connect external devices, peripherals, and gaming accessories.
Battery and Power
Given its high-performance components, gaming laptops like the Legion 7-16IAX7 tend to consume more power. The laptop may come with a high-capacity battery to provide decent battery life for general use and moderate gaming. However, gaming on battery power alone may significantly reduce performance and game time, so it's often recommended to use the laptop while connected to a power source for optimal gaming performance.
In summary, the Lenovo Legion 7-16IAX7 82TD001KPH is a high-end gaming laptop designed for enthusiasts who demand top-tier performance and cutting-edge technology for their gaming and creative endeavors. With its powerful processor, high-performance graphics card, ample memory, and fast storage, this laptop is geared towards delivering an immersive gaming experience and handling resource-intensive tasks with ease.
| Component | Specifications |
| --- | --- |
| Model | Lenovo Legion 7-16IAX7 82TD001KPH |
| Processor | Intel Core i9-12900HX |
| CPU Generation | 12th Generation (Alder Lake) |
| CPU Cores | 8 cores (16 threads) |
| CPU Base Clock | Varies based on model |
| CPU Max Turbo Clock | Varies based on model |
| Memory | 16GB DDR4 RAM (dual-channel configuration) |
| Storage | 1TB NVMe SSD (Non-Volatile Memory Express) |
| Graphics | Dedicated Graphics: NVIDIA GeForce RTX 3080 Ti |
| | GPU VRAM: 16GB GDDR6 |
| Display | 16-inch |
| Display Resolution | Varies based on model (e.g., Full HD or 4K UHD) |
| Display Refresh Rate | 165Hz (High Refresh Rate for smoother gaming) |
| Operating System | Windows 11 Home (64-bit) |
| Microsoft Office Suite | Microsoft Office 2021 Home and Student edition |
| Color | Grey (GRY) |
| Cooling and Keyboard | Advanced Cooling System |
| | RGB Backlit Keyboard |
| Connectivity and Ports | Wi-Fi 6 or Wi-Fi 6E (802.11ax) |
| | Bluetooth 5.1 or higher |
| | Various USB ports (Type-A and Type-C) |
| | HDMI port, audio jacks, and more |
| Battery and Power | High-capacity battery |
| | AC power adapter for fast charging |