No result found for your search.
No result found for your search.
Need help? Contact us
0933 813 0013 | 032 345 6611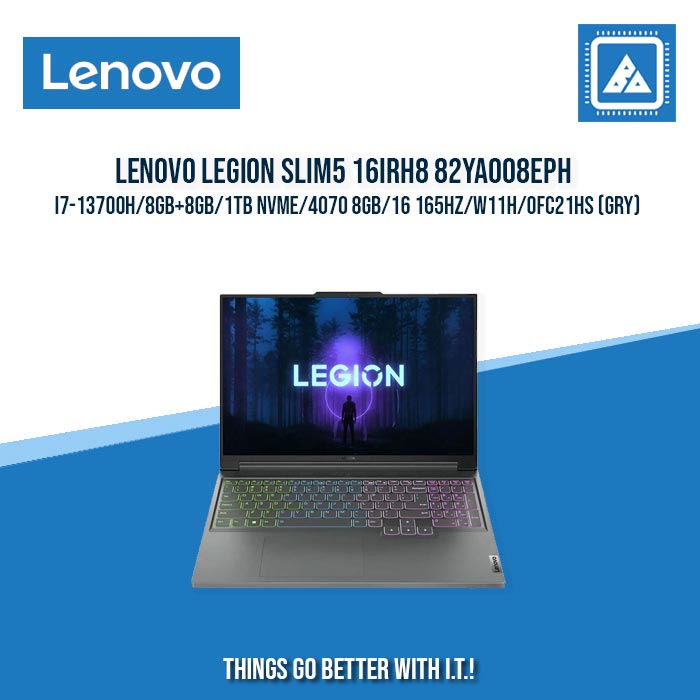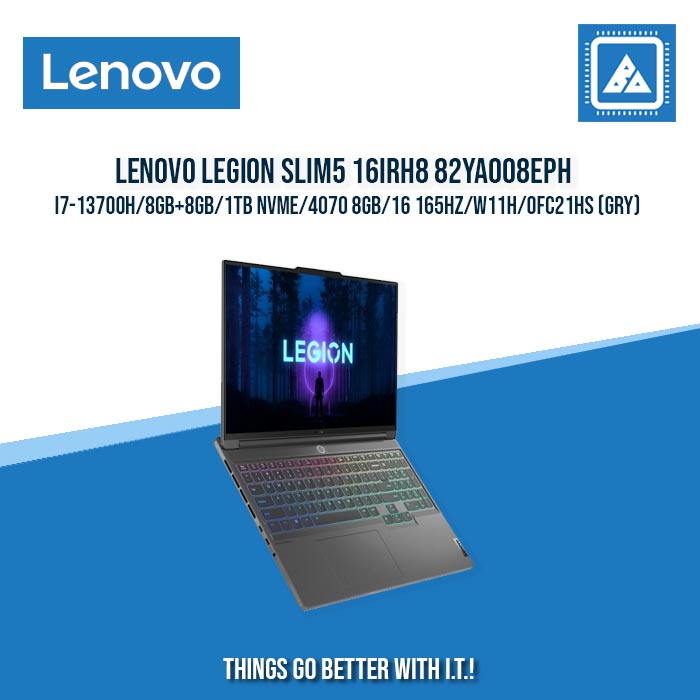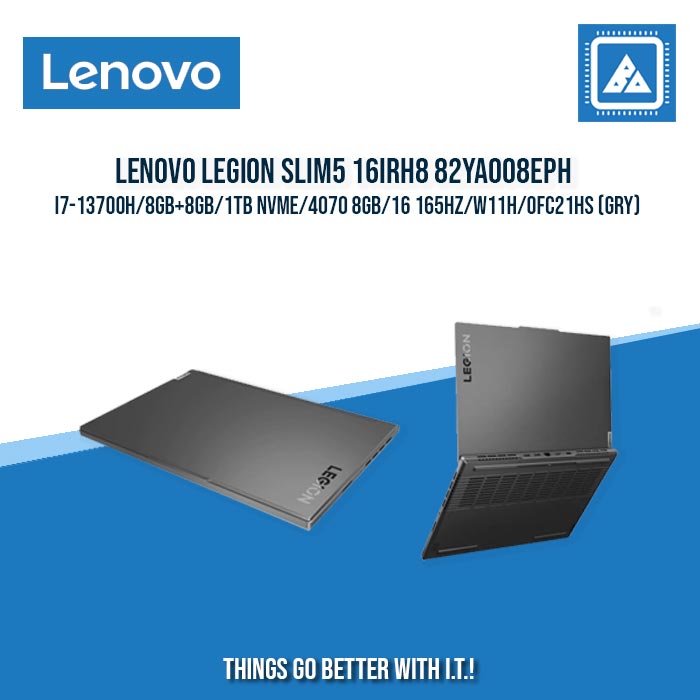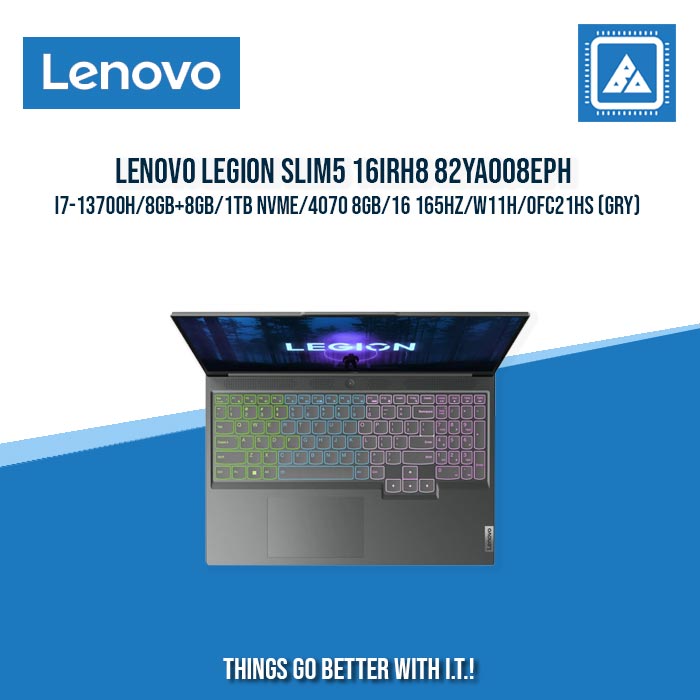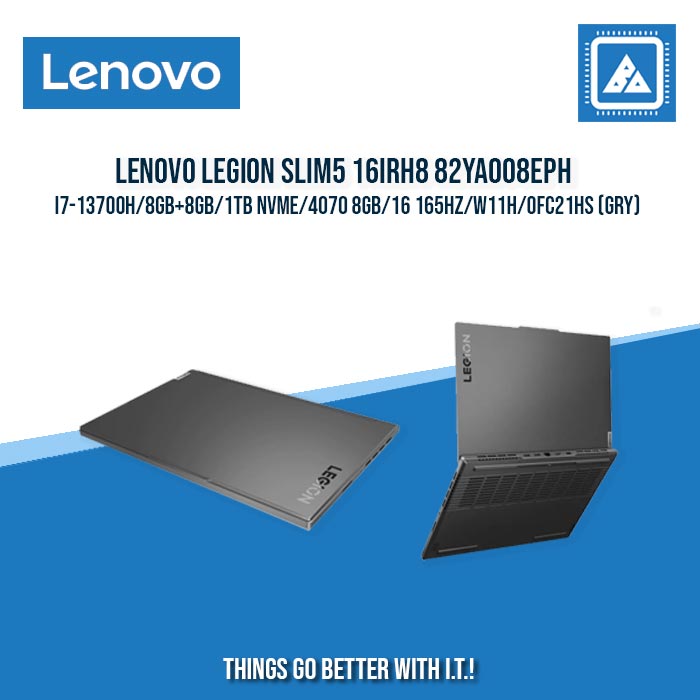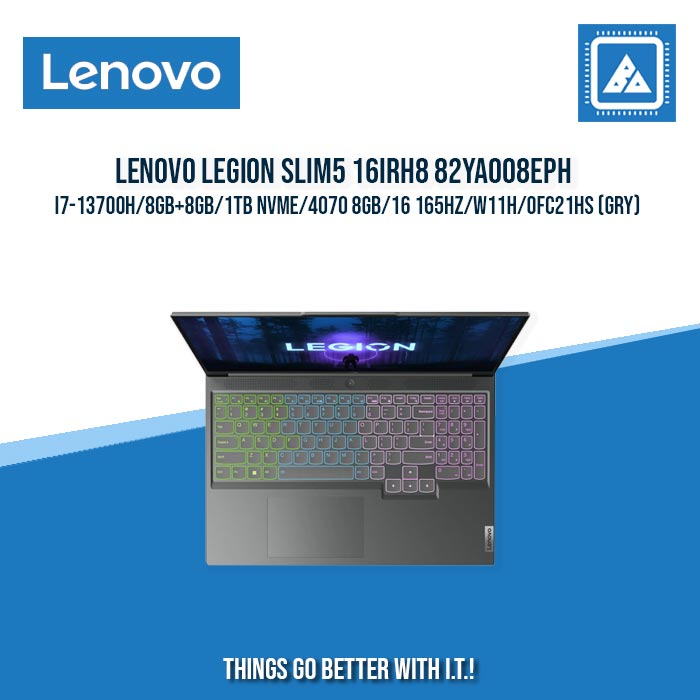 Introducing the LENOVO Legion Slim5 16IRH8 82YA008EPH laptop - a sleek and powerful gaming machine designed to deliver top-notch performance and immersive gaming experiences. With a combination of cutting-edge components and innovative features, this laptop is built to elevate your gaming and productivity to the next level.
Product Description:
The LENOVO Legion Slim5 16IRH8 82YA008EPH laptop is equipped with the latest Intel Core i7-13700H processor, offering superior processing power to handle demanding tasks, gaming, and multitasking with ease. The powerful six-core processor ensures a smooth and responsive computing experience.
This laptop comes with a total of 16GB of RAM, which is divided into 8GB onboard memory and an additional 8GB in the form of a removable module. The ample memory capacity ensures that you can run multiple applications simultaneously without any performance bottlenecks.
Storage-wise, the laptop boasts a spacious 1TB NVMe SSD (Solid State Drive), providing ample space to store all your games, files, and multimedia content. The NVMe technology ensures lightning-fast data access and significantly reduced loading times, enhancing your overall computing experience.
For gaming enthusiasts, the LENOVO Legion Slim5 is equipped with an NVIDIA GeForce RTX 4070 graphics card with 8GB of VRAM. This dedicated GPU delivers exceptional gaming performance, allowing you to enjoy the latest AAA games at high settings and smooth frame rates.
The laptop sports a 16-inch IPS display with a high refresh rate of 165Hz, ensuring buttery-smooth visuals and reduced motion blur during gaming sessions. The Full HD (1920 x 1080 pixels) resolution and vibrant colors enhance your viewing experience, making every game come to life.
Running on Windows 11 Home, the latest iteration of Microsoft's operating system, the Legion Slim5 provides access to innovative features and a user-friendly interface. The laptop also includes Microsoft Office Home and Student 2021, featuring essential applications like Word, Excel, and PowerPoint.
Connectivity options include Wi-Fi 6 (802.11ax) for fast and stable wireless internet connections, and Bluetooth 5.0 for seamless device pairing.
Designed with style and portability in mind, the laptop boasts a sleek gray finish, making it an attractive device to take on the go.
In summary, the LENOVO Legion Slim5 16IRH8 82YA008EPH is a high-performance gaming laptop that offers excellent gaming capabilities, ample storage, and smooth multitasking. Whether you're a gamer, content creator, or professional, this laptop is designed to meet all your computing needs and elevate your overall experience.
| Specification | Details |
| --- | --- |
| Model | LENOVO Legion Slim5 16IRH8 82YA008EPH |
| Color | Gray |
| Processor | Intel Core i7-13700H |
| Cores | 6 |
| Threads | 12 |
| Base Clock | (Base Clock Speed) GHz |
| Max Turbo Boost | (Max Turbo Boost Speed) GHz |
| Graphics | NVIDIA GeForce RTX 4070 |
| Graphics VRAM | 8GB |
| Memory | 16GB DDR4 RAM (8GB onboard + 8GB removable) |
| Storage | 1TB NVMe SSD |
| Display | 16-inch IPS |
| Resolution | Full HD (1920 x 1080 pixels) |
| Refresh Rate | 165Hz |
| Operating System | Windows 11 Home |
| Pre-installed Software | Microsoft Office Home and Student 2021 |
| Wi-Fi | Wi-Fi 6 (802.11ax) |
| Bluetooth | Bluetooth 5.0 |
| Ports | (List of ports) |
| Battery | Lithium-polymer with around XX-XXWh capacity |