Mad Catz The Authentic R.A.T. 1+ Optical Gaming Mouse
SKU:
Order in The Next to get it by
Real Time
1
Visitor Right Now
About this item
Multi-button functionality essential for optimal precision and performance - including: scroll wheel, left click, right click, and a DPI button with adjustable DPI up to 2000. Includes PIXART PAW3205 Sensor.

Extremely lightweight clocking in at 57g. Weight is measured without the cable.

F.L.U.X. software lets you customize your settings – create unlimited user profiles, program buttons and more. Store your favorite user profile on mouse using on-board memory. *Windows only, available for download.

Durable, long-lasting swtiches have 5 million click lifetime, and adjustable palm rest, allows you to customize the palm piece for maximum comfort.
Weighing in at a trim 60 grams, the R.A.T. 1+ is designed to cope with razer-fast reactions and precision accuracy. The signature adjustable palm rest allows the R.A.T. 1+ to quickly adapt to different styles of grip, while the smooth PTFE glide feet and non-slip surface texture provide comfort and speed when gamers need it most. In addition, the adjustable DPI offers maneuverability to match the gamer's preference.
● Ultra Lightweight: only 60g
● Adjustable palm rest, adjusts to your preferred grip
● Super low friction PTFE feet for fast gliding action
● Non-slip side texture provides a steady grip
● 4-level DPI adapts to gamers' preferred speed

Upgrade Your Gaming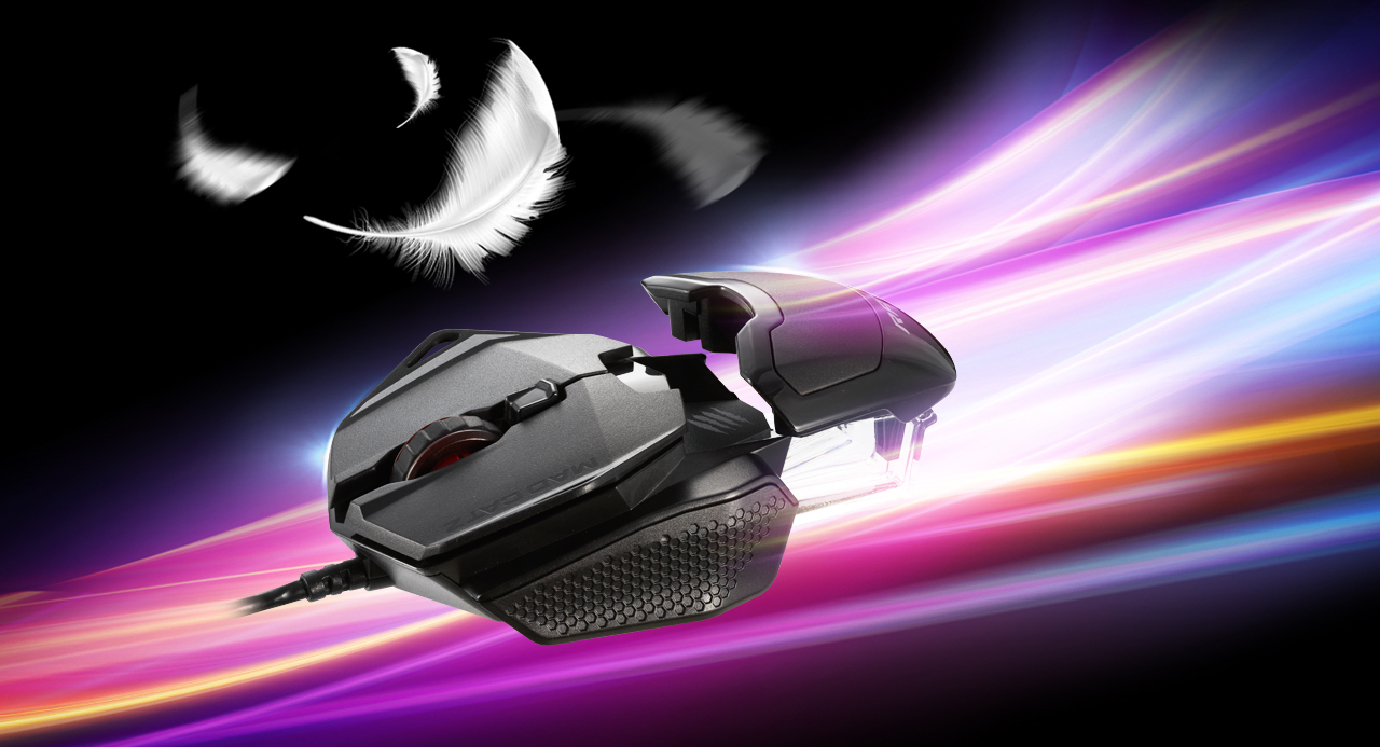 Ultra Lightweight, Reducing Fatigue for Intensive Gaming
Weighing in at a trim 60 grams (excluding cable), the R.A.T. 1+ glides like it's floating on air. Ultra-lightweight design results in quicker movements, providing extreme comfort for a longer gaming session with minimal fatigue.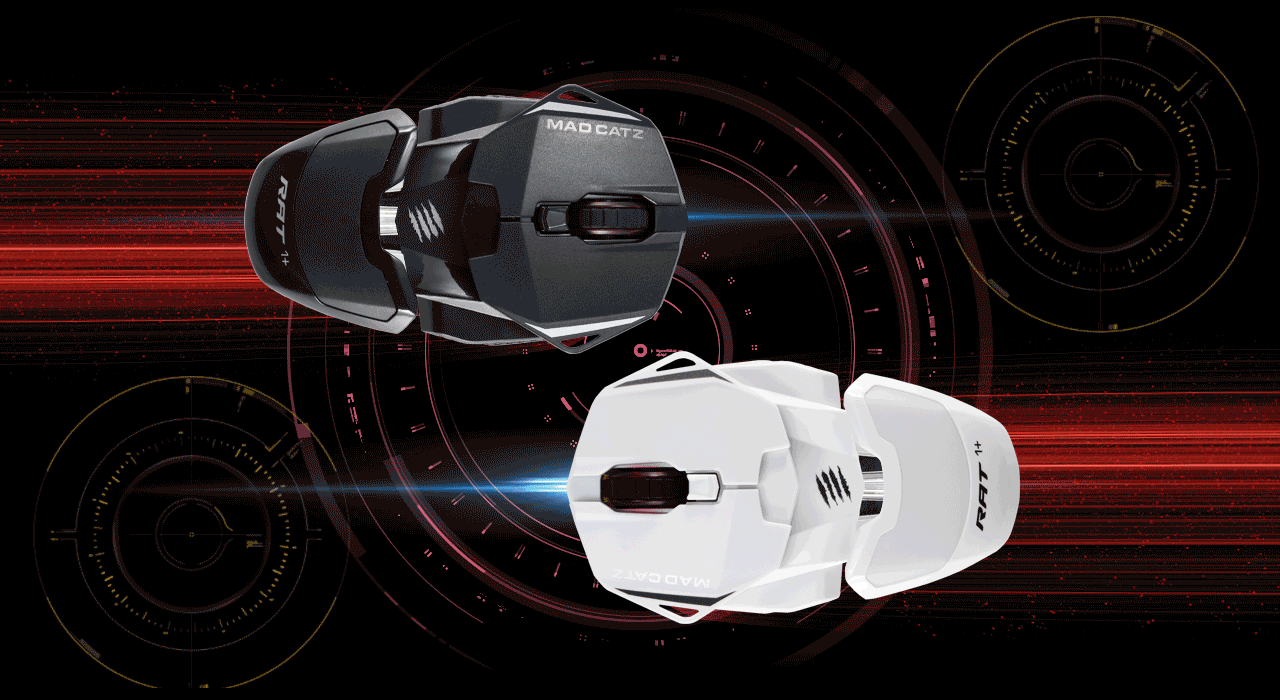 Adjusts to Your Grip
R.A.T. 1+ features the Mad Catz signature adjustable palm rest, so whether your grip is palm, claw, or finger-tip, R.A.T. 1+ can quickly adapt by adjusting its length to suit you. Ambidextrous by design, R.A.T. 1+ is always ready to play whether you need a right or left-handed gaming mouse.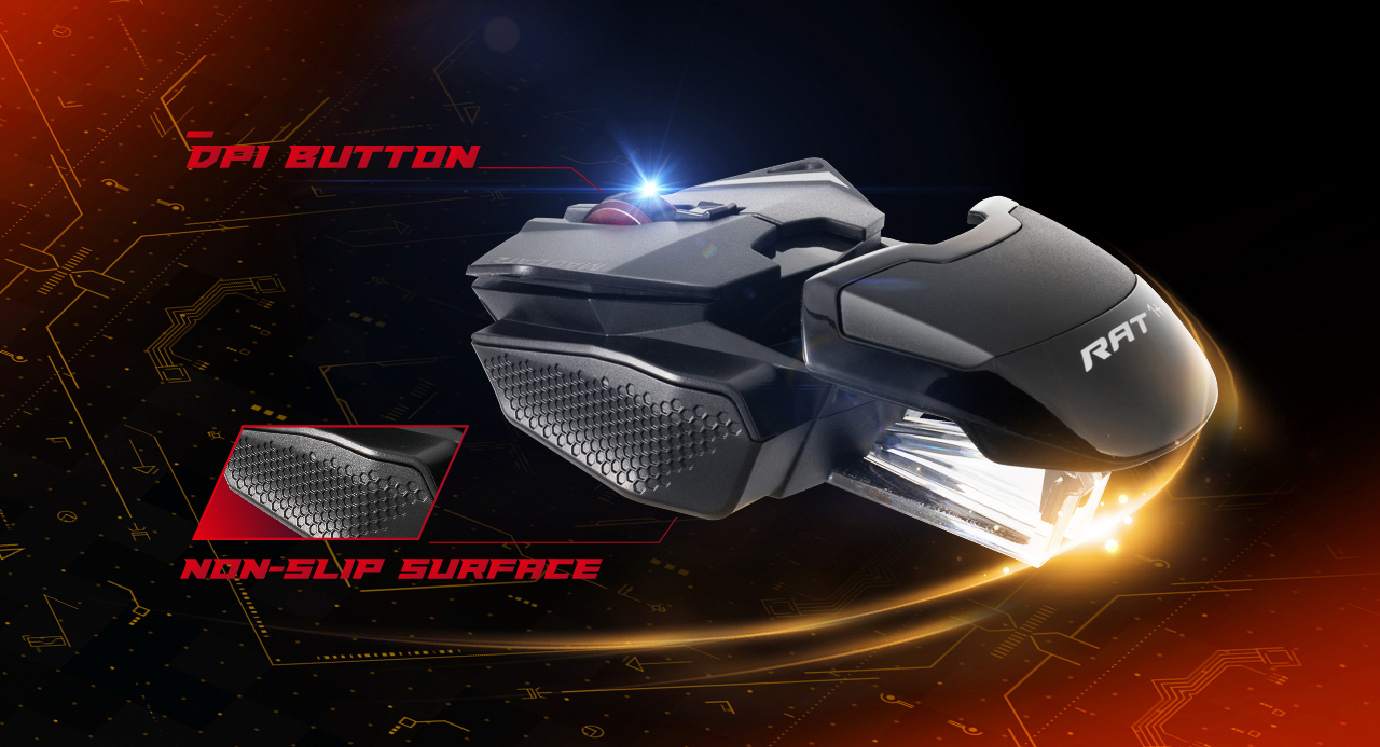 PRO Slide Technology
R.A.T. 1+ features a perfect gliding experience and highly accurate precision. PRO Slide Technology includes PTFE feet which offer super low coefficient of friction for smooth and quick gliding. Both the left and right sides of R.A.T. 1+ are fashioned with non-slip surfaces for a steady grip and better maneuverability. In addition, 4 levels of DPI adjustability, provide gamers with their ideal speed, no matter what the genre of game.
| | |
| --- | --- |
| Model Name | R.A.T. 1+ |
| Model Number | MR01MCINBL000-0 / MR01MCAMBL000-0 |
| | |
| --- | --- |
| Sensor Name | PAW3205 |
| Sensor Type | Optical |
| DPI (Dot Per Inch) Max | 2000 |
| IPS (Inch per Second) | 30 |
| Acceleration | 20G |
| Polling Rate | 1ms |
| | |
| --- | --- |
| Shape | Ergonomic, Ambidextrous |
| Grip Style | Universal |
| Number of Buttons | 3 |
| Adjustability | Palm Rest |
| Weight (g) | 60 |
| Length (mm) | 107 |
| Width (mm) | 67 |
| Height (mm) | 37 |
| Cable Type | Soft Rubber |
| Cable Length | 1.8M |
| | |
| --- | --- |
| System Requirements | Windows® 7, 8, 10 |



Refund policy Circumstances of No Refund With products feature up to a 30-day,BluearmPH commonly isn't going to refund or exchange products in the conditions below:

1. You purchased the so-called "wrong" product from us, and then purchased the "right" product from another company.

2. You simply changed your mind after placing an order from BluearmPH.

3. You requested a refund due to technical issues, but refused to provide any detailed description of the problem to our support team.

4. You didn't receive the license code in time but never contact us for assistance.

5. A refund request for part of a bundle.

6. A refund request for price differences due to different regions and sellers.

7. A refund request based on the complaint that your lost data cannot be recovered completely. No software in the market can guarantee 100% success recovery of lost/deleted data because such data can be easily overwritten or damaged. We strongly recommend you to use the trial version before purchasing.

8. A refund request based on the complaint that your item cannot be fixed completely. There are many reasons that may lead to the repair failure of your device especially when it has a hardware issue. In this case, we understand your emotions and decide to refund half of the money to you.

9. A refund request for no reason.

Accepted Circumstances

BluearmPH will approve refund requests due to the situations below, within the guidelines of its Money Back Guarantee.

1. You purchased a wrong product, and then purchased the right product from Bluearm within 1 day. We can refund you the order of the wrong product.

2. You've been double charged due to the system problem of the third party payment platform.

3. You do not receive the product within 48 hours of purchase and have failed to receive a timely response (within 48 hours) from BluearmPH support team after making contact.

4. If the item you've purchased has crucial technical problems on that day of purchased, we'll refund the order if you refuse to wait for a replacement.

Warranty Information

Item compatibility is buyer's responsibility.

Check all items upon receipt. NO Cash Refund.

All items/claims for warranty are carry-in.

Mishandled, improperly integrated, physical damage (burnt, dent, cracked) voids the warranty.

Tampered warranty sticker voids the warranty.

Overclocking may void the warranty.

Items for warranty must be complete with original contents/packaging and accompanied by warranty receipt.

Defective items for warranty are subject for pull out and RMA services.

Payment Information Before You Buy Always inquire for stock availability. Some items are order basis from the supplier.

Cheque payments are subject to 3 banking days clearing.

Full payment is required for order basis and/or reservation.

Credit card (visa / mastercard) payments are accepted in store.

Images posted are for reference only. Actual product may vary.

Prices and specifications may change without prior notice.

Shipping policy


Delivery Information

Delivery

Orders are processed via email/live chat during normal office hours unless there is a problem that requires further verification by a billing specialist.

It is possible we may need to call you to verify your order. We will deliver your order as soon as possible and if there is a problem we will contact you to get your order to you in a timely manner.

Office hours are Monday thru Saturday 9AM to 6PM, Sundays 10AM to 5PM.

When contacting us about your order please include your Full Name and Items Ordered to speed up the process. We receive a lot of orders a week and your email address and/or name alone may not quickly identify your order. To ensure that we receive your inquiry, do NOT send us email with attachments.

Delivery fee applies. Contact Us.

If you have not received your order, please contact us with your name and items ordered.



Shipping


Freight collect. Buyer shoulders shipping cost for orders and returns.

Goods travels at buyer's risk. Our responsibility ceases when merchandise is handed to the courier.

Bank deposits or money transfer on items for shipment. Items are released only after we verify the deposit.

Contact Us for money transfer / bank account details.

Shipping fees are not refundable under any circumstance.

Other shipping methods are available upon request, however, should you select uninsured shipping we will not be held responsible for loss or damage of your purchase.

International Shipping Information is available upon request.

Note: We offer free delivery for customers within cebu city and mandaue city for orders PHP5,000 and up. And also we offer free delivery for bulk orders within metro cebu.