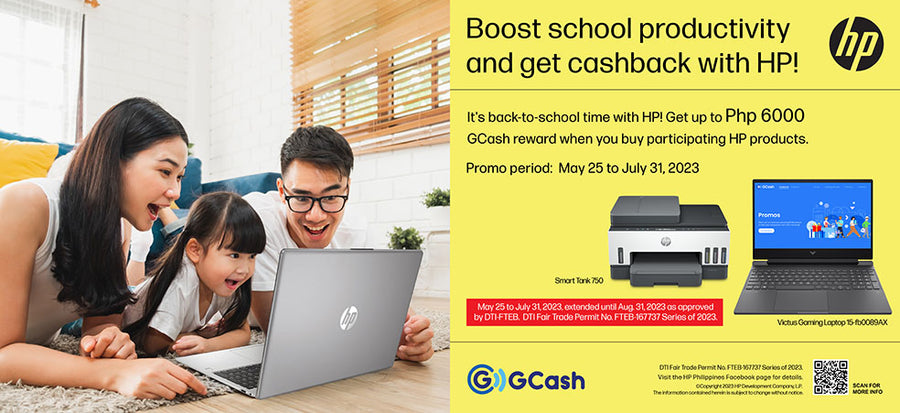 HP GCash Promo 2023: Cashback Extravaganza
Get ready for an incredible tech shopping experience with the HP GCash Promo 2023. It's time to make your wish list come true as HP teams up with GCash to bring you an exclusive cashback offer on every laptop, printer, and desktop purchase at our partner stores. Upgrade your devices and fill your wallet at the same time!
HP GCash Promo 2023
Promotion End: 20/09/2023
Offer valid from 25/05/2023 - 20/09/2023. Final claims must be received by 19/11/2023.
Eligible products:
Check here
For more details and a list of partner stores, check out our official promotion page here.
Unbeatable Cashback Offers
At HP, we believe in rewarding our customers, and that's why we're excited to offer cashback on every eligible product you purchase during the HP GCash Promo 2023:
Laptops: Whether you need a sleek and powerful laptop for work, gaming, or creative projects, you'll earn cashback with every laptop purchase.
Printers: Upgrade your printing game with HP's range of high-quality printers and enjoy cashback on your purchase.
Desktops: Elevate your productivity and entertainment with HP desktop computers, all while earning cashback.
Why Choose GCash for Your HP Purchase?
Paying with GCash not only ensures a hassle-free and secure transaction but also unlocks exclusive cashback opportunities. Here's how it works:
Visit any of our partner stores listed on our promotion page.
Choose your desired HP product, whether it's a laptop, printer, or desktop.
At the checkout counter, make your payment using GCash. It's fast, convenient, and secure.
Receive cashback directly into your GCash wallet – it's like getting a reward for your purchase!
Don't Miss Out – Limited Time Offer
The HP GCash Promo 2023 is a limited-time offer, so act quickly to grab the best deals on HP laptops, printers, and desktops while earning cashback with GCash payments.
For a full list of eligible products, partner stores, and more details, visit our official promotion page here. Make your tech dreams come true with HP and GCash in 2023!