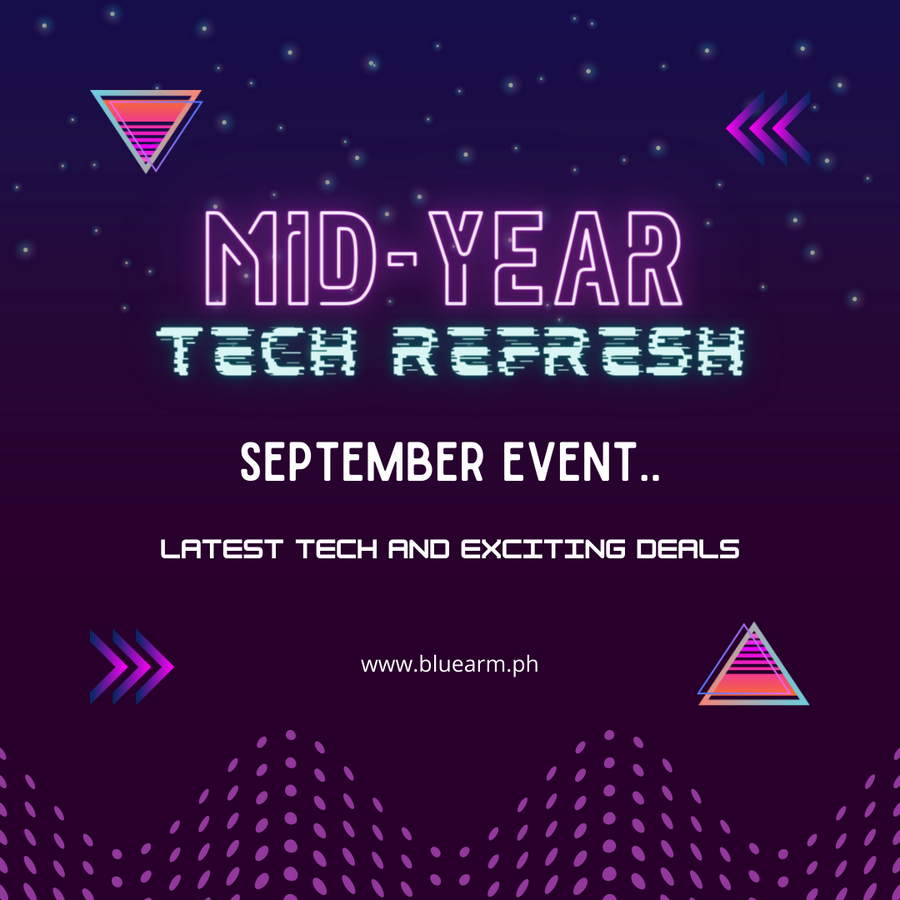 Revitalize Your Tech: The Mid-Year Tech Refresh at Bluearm Computers
It's that time of the year again when we pause to take stock of our tech arsenal and make sure we're equipped to tackle the challenges and opportunities that lie ahead. At Bluearm Computers, we understand the importance of staying up-to-date with the latest technology. That's why we're thrilled to introduce our "Mid-Year Tech Refresh" event!
In the fast-paced world of technology, staying ahead is key. Whether you're a student gearing up for the new semester, a professional heading back to the office, or simply looking to enhance your home computing setup, our September event has something for everyone.
Discover the Latest Laptop Models
One of the highlights of our Mid-Year Tech Refresh is the introduction of the latest laptop models. We've been working closely with top manufacturers to bring you cutting-edge devices that offer improved performance, enhanced graphics, and innovative features.
Our expert team at Bluearm Computers is excited to showcase these new laptops, and they're ready to provide you with all the information you need to make an informed decision. Whether you're looking for a laptop for work, gaming, or everyday use, we've got you covered.
Upgrade Your Accessories
A new laptop deserves the right accessories to maximize its potential. That's why we're offering special discounts on a wide range of tech accessories, including laptop bags, ergonomic keyboards, computer mice, headphones, and external hard drives.
Need help choosing the right accessories for your setup? Our friendly staff is here to assist you in finding the perfect match for your needs.
FREE Tech Health Check Service
Worried about the performance of your existing devices? Don't be! As part of our Mid-Year Tech Refresh event, we're introducing our "Tech Health Check" service. Bring in your laptop, and our skilled technicians will perform a thorough diagnostic evaluation.
They'll identify any potential issues, recommend necessary upgrades or repairs, and even provide discounts on the spot for any work needed. It's a great way to ensure your tech is in tip-top shape for the months ahead.
Back-to-School Tech Package
Transitioning back to school? We've got your back with our exclusive "Back-to-School Tech Package." This comprehensive package includes all the essential items you need for a smooth return to the classroom, including a laptop, a trendy laptop bag, a wireless mouse, and a USB hub.
And the best part? You'll enjoy fantastic savings as we offer this package at a discounted price, helping you save both time and money as you gear up for the school year ahead.
Online Exclusive Deals
Can't make it to our physical store? No problem! We're extending our Mid-Year Tech Refresh event to our online customers as well. Visit our website to explore exclusive online deals, detailed product descriptions, and the convenience of shopping from the comfort of your home.
Stay Connected with Bluearm Computers
As your trusted tech partner, Bluearm Computers is committed to keeping you informed and engaged. Throughout the month of September, we'll be sharing valuable tech tips, expert advice, and exciting event updates on our website and social media channels. Be sure to follow us on Facebook, Instagram, and Twitter to stay in the loop!
Conclusion
Don't miss out on the opportunity to revitalize your tech and prepare for the challenges and adventures that lie ahead. Join us at Bluearm Computers in Cebu, Philippines, for our Mid-Year Tech Refresh event throughout the month of September. Discover the latest laptops, grab fantastic deals on accessories, and take advantage of our Tech Health Check service to ensure your devices are performing at their best.
At Bluearm Computers, we're here to help you navigate the ever-evolving world of technology. Stay tuned for more updates, and we look forward to serving you during this exciting event!