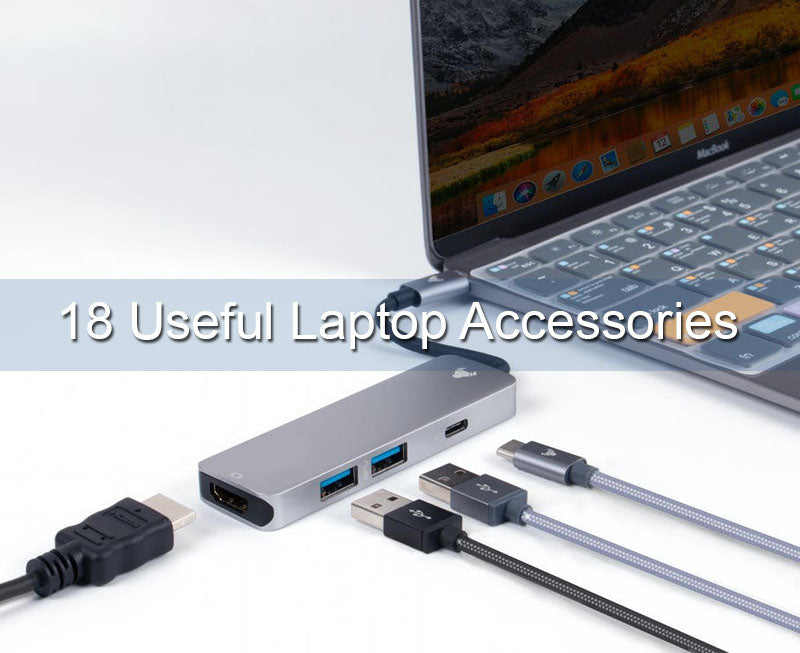 18 Useful Laptop Accessories Everyone Should Be Using
There are a myriad of useful laptop accessories and devices that will make your laptop better. Whether you use it at home for work or school, take it to the workplace, or hope to fly with it one day, you'll need a variety of accessories to complete your new portable PC experience. 
Laptop Case
Laptop cases are especially helpful when your bag doesn't come with a built-in laptop area. The best one to get out there is a spacious laptop sleeve with extra compartments for your other devices and has enough room to also store your chargers, notebooks, and other random office supplies.
Portable Laptop Power Bank
If you're always on the go, a portable laptop power bank is a great investment for you. Since you don't need to plug it into an outlet while charging your laptop, you can always work anytime and anywhere.

Other power banks can even charge up to 2-3 other devices via USB-C ports.
External Hard Drive
Most external hard drives are built as plug-in and go models so you can easily connect them to your laptop and transfer or copy files.

This is one of the useful laptop accessories that is mainly used for additional storage or back up in a hassle-free way.
Wireless Headphones
If you're always listening to music and audios while at work or even at home, then high-quality headphones are definitely something you should consider buying.

There are a lot of cool-looking  wireless headphones, gaming and headset with long battery-life and noise-canceling features. 
High-quality HD webcam
While most laptops come with built-in webcams, most of them don't offer the same quality as those high-definition external webcams. Most certainly, external HD webcams are absolutely one of the useful laptop accessories worth upgrading to.
Webcam Cover
While some modern laptops have built-in webcam covers, most laptops still don't have one. To ease the paranoia of being watched, adding a webcam cover to your laptop is a smart move.

No more using white tapes or stickers to block your laptop camera, you can switch to sleek and easy to install webcam covers now.
Portable Monitor
This might be a pricey one, but sliding a second monitor is going to be worth it if you're in need of more screen space. Most portable screens are compatible with laptops, PCs, Mac, and Chromebooks.

Works perfectly if you need more screen for writing documents, editing photos, and even playing games. 
Standing desk
There have been a number of adjustable standing desks available right now that aim to help you stay focused and keep your momentum at work.

Standing desks are also said to help ease back pain and improve your posture while working. Besides less sitting time, standing at work can help you burn more calories. 
Sweep and Swipe Tool
Sweep and swipe laptop cleaners lets you keep laptops and tablets free of crumbs, dust and debris from your keyboard.

There are even compact ones with microfiber pad that will help you swipe away fingerprints from your screen. Perfect for your home and work office.
USB-C Multiport Adapter
This is most helpful for laptop owners who only have limited hubs to connect their keyboard, monitor and other devices.

It can also provide additional ports for Ethernet, HDMI connections, or SD card readers. It's perfect for home and work use, especially if you're traveling and there isn't much space for additional stuff. 
Laptop Fan
Protect, not only your laptop, but also your lap from overheating. A ventilated laptop fan is a huge help especially if you have numerous, big apps running all at the same time on your device.

Get those cooling fans that run with less noise and can be powered via a USB port on your computer.
Privacy Screen Protector
This one is truly a game changer. Imagine not having to worry about what your boss and colleagues see when they come near you. But most especially, this is helpful when you're in a public space.

Aside from making your screen impossible to read from the sides, this screen protector can even filter blue light. 
Arm Rest Pads
Old habits die hard, like putting our wrists on the laptop itself when typing. To combat this, you can place two arm rest pads on either side of your laptop.

This is a good ergonomic position to let you type comfortably while your wrists are properly cushioned.
Bluetooth Mouse
The best thing that bluetooth and wireless mouse can offer is their portability and flexibility. You don't have to install any program to run them. Just connect them to Bluetooth and you can use them from anywhere regardless of the connecting device's location.

Options range from simple bluetooth mouse, customizable gaming mouse, to backlit gaming mouse, and more.
Mechanical Gaming Keyboard
The use of mechanical keyboards offer a more comfortable typing experience. You can tangibly feel every keystroke, helping you type more precisely and accurately. If you spend most of your day typing, gaming, or coding, then getting a mechanical keyboard is likely a worthy upgrade.
Laptop Stand
A raised laptop stand can help you achieve the right viewing height. It brings your screen up to eye level. You don't have to worry anymore about straining your neck, back, and shoulders while at work.

You'll surely get more done with increased comfort brought about by the right laptop stand.
Keyboard Cover
The main function for using a keyboard cover is to keep the dust, ants, and other spills from damaging the internal workings of your laptop keyboard. Transparent ones and thinner ones are the best options to go with.

If you go for thicker ones, make sure to remove it every time you close your laptop. You don't want any unexpected dents on your laptop screen.
Gaming Chair
While a good working or gaming experience can be enhanced by a lot of factors, a comfortable, ergonomic chair can definitely bring about additional perks.

For one, you won't hardly feel like you're sitting all day. Additionally, gaming chairs can help you improve your posture while working. 
RECOMMENDATIONS
If you don't know where to start your next shopping trip, you can always start here. For more products, you can always check out Shopee and Lazada as well as other trusted online shops.