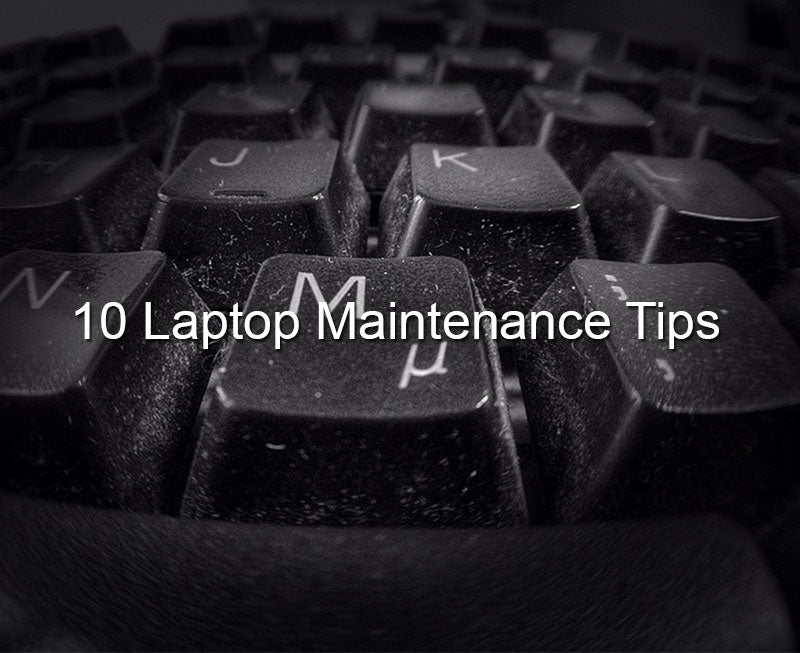 Here Are 10 Simple (But Important) Laptop Maintenance Tips
Proper laptop maintenance is essential in keeping your device last as long as it should. There are a lot of simple but important laptop maintenance tips that you can perform occasionally to keep your device in check. We've broken down the list into four major parts - keeping your laptop clean, performing system updates, maintaining your hard drive, and managing your files. 
Keeping Your Laptop Clean
Decluttering your workspace is the first best step into getting into the right headspace for a productive work day. Aside from that, it helps that the device you are using is also clean and free from dust, food particles, stains, and more. Here are some of the most useful laptop maintenance tips to keep your laptop or computer looking clean all the time.
Dust Your Keyboard Thoroughly
A lot of dirt, oil & stains from your fingertips, and random bio-critters live on your keyboard area. It is best to use microfiber in cleaning it all out. There are even sweep and swipe tools out there that can help you with this task. Aside from the keyboard keys, make sure to also clean the chassis and touchpad.
Clean The Screen and Ports
You should also wipe down the stains and fingerprints on your monitor to keep your viewing experience as fresh. Gently wipe down your screen at least once a week using microfiber or any light cloth with minimal pressure only. Additionally, take some time to clean the ports of your laptop or computer. They are likely to get clogged with dust after years of long use.
Organize Pour Cords
Organize your cords properly in order to avoid getting them mixed up and tangled all together. You can declutter your wires by installing cable clips under your station to keep them in place. Rotating power strips can also help if you want to change the positioning of your chargers, monitors, and docks.
Performing System Updates
Regularly performing system updates lets you enhance the stability of your software and get rid of any obsolete functionality. All of these changes are intended to improve the user experience. Here are some laptop maintenance tips you can do to keep your system updated.
Update Your Operating System
According to Norton, an industry-leading antivirus and security software, digital safety and cyber security is the most important reason why you should keep your operating system up to date. This can help you repair security holes, add new features, boost program performance, and keep your data protected. You should install major computer updates at least once a month to keep your applications running safely and efficiently. 
Run Regular Antivirus Scans
At any time, malware threats might creep up on you. Weekly antivirus checks ensure that your machine is never infected with dangerous malware. But if you have an antivirus software update notification, you should execute it as soon as possible to eradicate any possible threats.
Maintaining Your Hard Drive
The quantity of unused files on a computer's hard disk can affect the performance of your device. Here are some things you can do to get rid of garbage files and useless programs.
Defragment Your Hard Drive
Defragmenting your hard drive can help increase the overall performance of your laptop. When you defrag, your device consolidates your data into one area in the drive. The system can then easily pick up information anytime when you need it. Usually, you can go to your settings or your laptop's search bar and search for "Defragment and optimize your drive". The whole process takes you about a several minutes to a few hours, depending on the size of your hard drive.
Run Disk Cleanup
Purge your device from unwanted files by running disk clean ups from time to time. This can help free up extra space on your hard disk. Ultimately, you can remove unwanted apps and virus-infected files that are causing your computer to malfunction. You should do this at least once a month.
Clear Your Browser's Cache and Cookies
This is one of the most simple laptop maintenance tips that you can regularly perform. When you clean your browser's cache and cookies, it helps your browser speedy and safe. Different browsers have varying ways of clearing out temporary files and cookies, you can check out this compiled instruction for an easier process.
Managing Your Files
It's crucial to save your files systematically so they can be easily located when needed. How you organize your data can have a direct impact on how productive you can be while working.
Backup Your Data
Device malfunctions are always unexpected, thus it is important to have secure copies of your documents. To prevent data loss or corruption, you must regularly store copies of your data on a separate medium. This way, you can easily initiate backup and restoration if needed.
It is also efficient if you maintain your files in an organized manner. You can copy similar files into one folder so you can easily locate them when needed. External hard drives are the most common backup devices, along with removable flash drives. 
Clear Out the Recycling Bin
Check the recycle Bin once a month for any files that may have been deleted by accident and delete the rest. It's best to start clearing out files from your Downloads folder. A lot of images, videos and installer files tend to sit here for a long period of time. Delete them and collectively empty out your recycle bin in order to gain additional space.